I prepare various institutions answered to the visitor's demand,
I put a true heart, and am doing the help of the unforgettable trip.
Information of Lodging with Pet
Guest rooms with your pet are availble.
Have fun and relax with your pet together for your memory.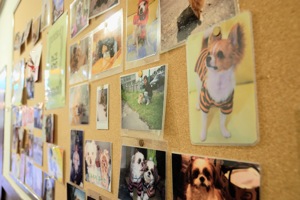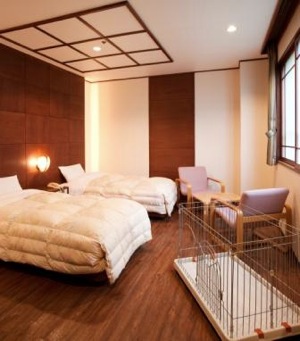 Photos of guest pet                      Western style bed room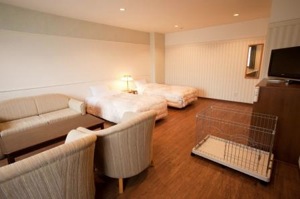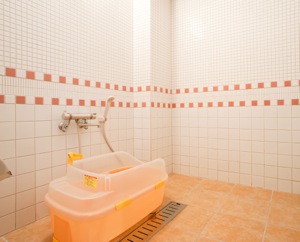 Western style bed room                 Western style bed room w/ shower room
On your arrival you will find the welcome message board with your pet's name.
We welcome your dog as one of your family. Foot bath exclusive for your dog is ready at the entrance.
Western style guest rooms (bathroom w/no tub) are prepared.
You can use shower room for your lovery pets treatment.
We strongly recommend that reservation for Saturday or holiday stay should be made earlier.
Size of pets available

Small dog to large dog (rooms are limited for large dog)

Facilities available at the lodge
Cage, dish, towel, foot wiper
※Please bring dog food and pet sheets at your side.
Areas open to our guests and pets
Lobby and guest rooms
※For small dog, hold or use carrying bag,
while moving between lobby and guest room.
For mid-size and large dog, always use lead.
NOTICE
*Your dog should be trained for in-house excretion and being silent.
*Rabies as well as more than 5-combined vaccination must be applied to your dog in past 1 year. (Indicating the certificates may be required at check-in)
*Shampooing and brushing prior to arrival are suggested.
※1,500 JPY. facility charge per pet is applied.
※1 big dog per room is appreciated.
※Free shuttle service with pet is not available.
Number of guest room
(Western style)
17 rooms(capacity for 2 to 3 guests)
| | |
| --- | --- |
| Small dogs | Maltese, Pomeranian, Yorkshire terrier (Yorkie), Shih-tzu, Papillon, Miniature pinscher, Italian Greyhound, Miniature schnauzer, Pekinese, Japanese spaniel, Jack russell terrier, Cavalier, Westy (West highland white terrier), Cairn terrier, Scottish terrier, Kaninchen dachshund, Bolognese, Bichon frise |
| Mid-sized dogs | French bulldog, Boston terrier, Beagle, Basset hound, Shiba (Miniature shiba), American cocker spaniel, Corgi (Pembroke), Shetland sheep dog, Bulldog |
| Large dogs | Irish setter, Afghan hound, Springer spaniel, English setter, English pointer, Airedale terrier, Old English sheepdog, Great Dane, Great Pyrenees, Gordon setter, Collie, Golden retriever, Samoyed, Saluki, Siberian husky, German shepherd, German pointer, Giant schnauzer, Standard Poodle, Saint Bernard, Dalmatian, Doberman, Newfoundland, Bernese mountain dog, Bouvier des Flandres, Flat-coated retriever, Bull terrier, Bullmastiff, Boxer, Border collie, Borzoi, Mastiff, Spanish mastiff, Labrador retriever, Landseer, Leonberger, Rottweiler, Weimaraner |